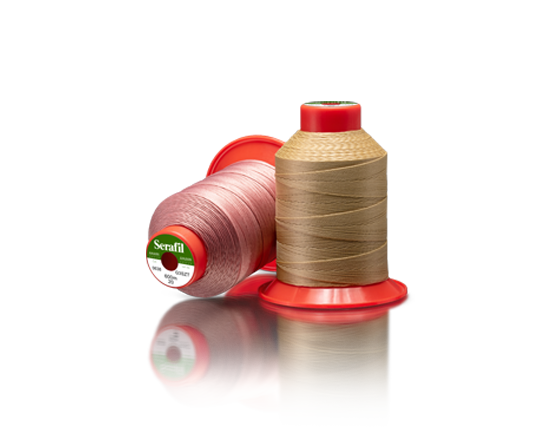 Serafil
Polyester continuous filament
PRO-Label certification
the outstanding product for shoes and accessories
for closing and decorative seams
subtle sheen
special finishing process
high seam strength
best sewing performance with perfect stitch formation
suitable for coarse decorative embroidery
| | | | | | | |
| --- | --- | --- | --- | --- | --- | --- |
| Ticket no. | Embroidery thread | Tex no. | Make-up | Number of colours | Needle size (in Nm) | Needle size (in No.) |
| 8 | - | 350 | 850 m FS | on request | 200-260 | 25-28 |
| 10 | - | 270 | 1000 m FS | 148 | 180-220 | 24-26 |
| 10 | - | 270 | 300 m FS | 148 | 180-220 | 24-26 |
| 15 | - | 210 | 450 m FS | 148 | 150-180 | 23-24 |
| 20 | - | 135 | 600 m FS | 240 | 120-140 | 19-22 |
| 20 | - | 135 | 2500 m FS | 240 | 120-140 | 19-22 |
| 30 | - | 90 | 900 m FS | 240 | 100-130 | 16-21 |
| 30 | - | 90 | 4000 m FS | 240 | 100-130 | 16-21 |
| 40 | 15 | 70 | 1200 m FS | 240 | 90-120 | 14-19 |
| 40 | 15 | 70 | 5000 m FS | 240 | 90-120 | 14-19 |
| 60 | 25 | 45 | 1800 m FS | 240 | 80-110 | 12-18 |
| 60 | 25 | 45 | 5000 m FS | on request | 80-110 | 12-18 |
| 80 | 35 | 30 | 2400 m FS | 240 | 70-110 | 10-18 |
| 80 | 35 | 30 | 10000 m FS | on request | 70-110 | 10-18 |
Eco-friendly and water-repellent: Here you can find our new Serafil WRe!
Main application:
Shoes
Bags
Suitcases
Belts and small leather goods
Serafil is a sewing and embroidery thread made from polyester continuous filament. The single yarns are made of endless fibres (filaments) for continuous filament threads. Partially, up to 200 single filaments make up a single yarn (continuous filament). Thanks to their construction, continuous filaments have a smooth, glossy surface and a consistent thread character. Furthermore, they display a very high breaking strength and abrasion resistance.
Serafil is the classic among all sewing threads. It is established since 1955 and suitable for closing and decorative seams. It stands out through its subtle sheen. Serafil completes a special finishing process and has a high seam strength. Moreover, AMANN's classic combines best sewing performance with perfect stitch formation.
Eco-friendly & water-repellent: the range of Serafil is complemented by WRe, AMANN's new water-repellent, PFC-free finish, which is available on request. Moreover, Hohenstein Laboratories confirm the industrial wash resistance of Serafil with the PRO-care certification according to DIN EN ISO 30023. In addition, Serafil is certified according to STANDARD 100 by OEKO-TEX®, 93.0.4233.
Serafil is the outstanding product for shoes & accessories. In this context, Serafil is used as sewing thread for shoes, as sewing thread for bags, as sewing thread for suitcases, and as sewing thread for belts and small leather goods. Last but not least, Serafil is used in the automotive sector, the home interior sector, the Techtex sector, as well as for embroidery, for instance, as embroidery thread for coarse decorative embroidery.