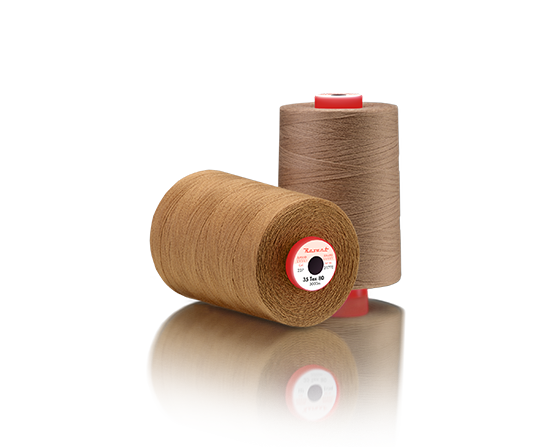 Rasant
Polyester/cotton core spun
the traditional core spun thread
robust in sewing
approved in many applications
for closing and topstitch seams
for matt embroidery
| | | | | | | |
| --- | --- | --- | --- | --- | --- | --- |
| Ticket no. | Embroidery thread | Tex no. | Make-up | Number of colours | Needle size (in Nm) | Needle size (in No.) |
| 35 | - | 80 | 3000 m Co | 52 | 110-130 | 18-21 |
| 50 | 15 | 60 | 1000 m XW | 52 | 100-110 | 16-18 |
| 50 | 15 | 60 | 5000 m Co | 52 | 100-110 | 16-18 |
| 75 | 30 | 40 | 1000 m XW | 140 | 90-100 | 14-16 |
| 75 | 30 | 40 | 5000 m Co | 140 | 90-100 | 14-16 |
| 75 | 30 | 40 | 10000 m Co | on request | 90-100 | 14-16 |
| 120 | 40 | 24 | 1000 m XW | 300 | 70-80 | 10-12 |
| 120 | 40 | 24 | 5000 m Co | 300 | 70-80 | 10-12 |
| 120 | 40 | 24 | 10000 m Co | on request | 70-80 | 10-12 |
The comprehensive range of Rasant is complemented by the hydrophobic finish "WR". Available on request.
Main application:
Ladieswear, menswear
Sportswear & outdoor
Denim
Underwear & lingerie
Workwear
Rasant is a polyester/cotton core spun. Like spun threads, core spun threads have a smooth and textile surface. Thanks to the combination of continuous filament core and spun cover, core spun threads are extremely high performing. Core spun threads display an outstanding sewability and this provides for trouble-free processing, even in difficult applications such as multidirectional sewing operations and buttonholes in thin fabrics. Therefore, core spun threads are well suited for a huge spectre of applications.
Rasant is AMANN's traditional classic with cotton part. The sewing and embroidery thread is very robust, approved in many applications and perfectly suited for closing and topstitch seams.
On request, Rasant is available with water-repellent WR-finish. Moreover, Rasant is certified according to 94.0.8268, STANDARD 100 by OEKO-TEX®.
Rasant is mainly used in the apparel sector. In this sector, it is used as sewing thread for ladieswear & menswear, for sportswear & outdoor as well as for underwear & lingerie. Rasant is also used as sewing thread for denim and workwear. Last but not least, Rasant is used as embroidery thread for matt embroidery but also for technical textiles.